Prepping your meal plans can help you lose weight.
Who would have thought that planning your meal plans ahead of time and using an assembly line to get your meals packaged for the upcoming week would help you lose weight? I think we experience trouble making all the meals for you or your family during the week. We are all busy and the worse thing about remaining healthy is having to make meals at the end of the day when you want to rest and relieve stress.
Automating or prepping you meals is simply having a rotation of meals or recipes to make. Automating your meals is not necessarily making the same item over and over again. That would be boring and would lead to straying from you diet. That being said, I do tend to repeat breakfast. Egg sandwiches are easy to make and pack for the road. The other meals are rotated on a once every 2-4 weeks basis. Some are made more often than others.
We all know eating healthy is the key to weight loss and maintenance, but planning three meals a day plus snacks can be a lot to do. The good news is when you assembly line prepare or prep your meals and snacks, it will maximize your chances at success by having preplanned meals ready to go in your refrigerator when time is short. If simplify your menu and cook ahead if time, it can make the task of cooking all those meals just a little less of a hassle.
Variety is the key to prevent boredom and straying from your plans. I keep a variety of prepped meals in my freezer. Instead of taking more time, I keep a few extra each week so allow for rotation of meals. I have seen preppers that make one meal and have it each day of the week for a week. A lack of variety does not have to mean more work. Having a few bonus meals in the freezer means that I can maximize variety.
I reach to my freezer every morning and grab a meal that is ready to go. This grab and go technique is more than convenient. I bring lunch and breakfast to work and eat them to prevent grazing. These meals are one less thing to worry about during my busy day. I don't have to think twice about eating healthy or spending more time than needed to choose my meals. There's no reason to overcomplicate this process or get romantic about it.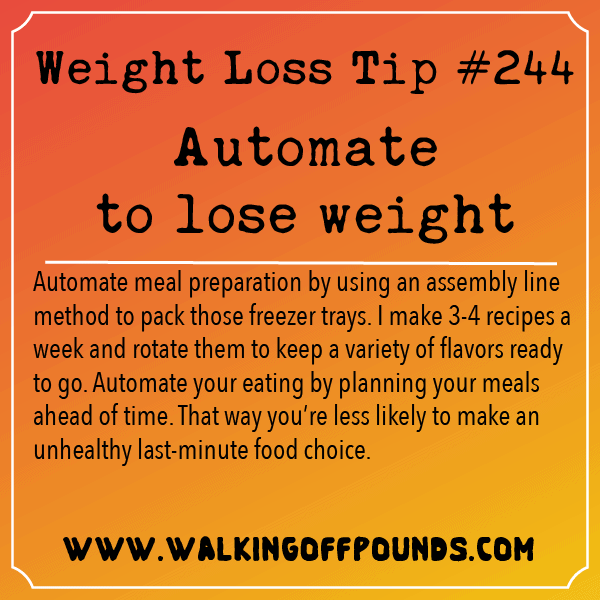 The bottom line: Automate meal preparation by using an assembly line method to pack those freezer trays. I make 3-4 recipes a week and rotate them to keep a variety of flavors ready to go. Automate your eating by planning your meals ahead of time. That way you're less likely to make an unhealthy last-minute food choice.